Can you relate?
→ You feel overwhelmed and exhausted by your job search, like it's taking over your life but you're not getting anywhere. 


→ You're applying to lots of different positions and can't work out why you're not attracting any interviews or offers. 


→ You're not really sure what type of job you want and so you're applying for as many jobs as you can, hoping for the best.


→ You've tried reaching out directly to recruiters and hiring managers but keep being ghosted or turned down.


→ You're unclear on your value proposition and what makes you different to other candidates. 
→ You lack confidence in interviews and struggle to perform to the best of your ability under pressure. 

→ You keep getting rejected for opportunities you know you're qualified for.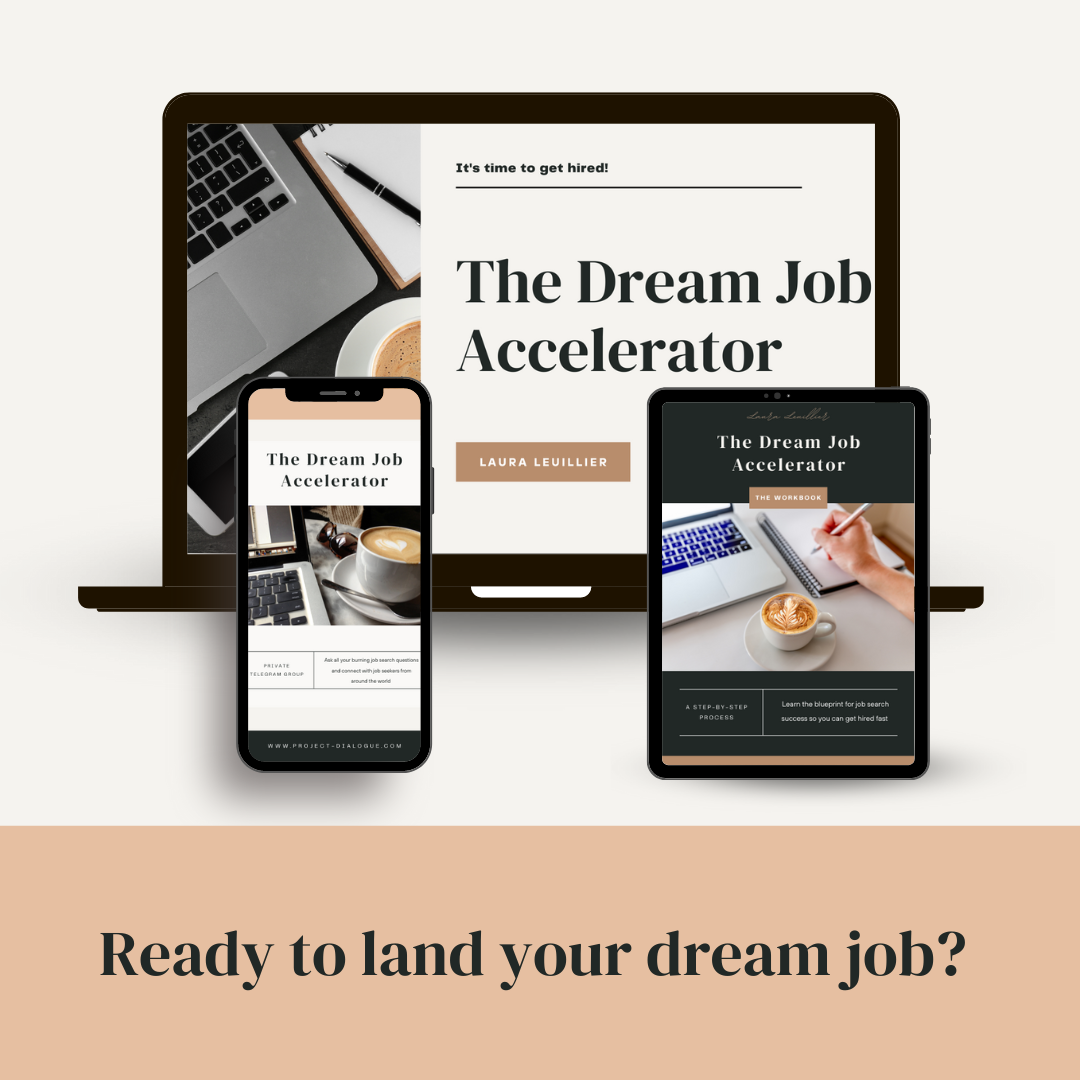 Imagine if...

→ You actually knew what you wanted instead of wasting your time applying to anything and everything.
→ You didn't feel totally overwhelmed with your job search because you had a step-by-step process to follow that you knew would get RESULTS.


→ You understood how to market yourself strategically to attract the best suited opportunities. 
→ Recruiters and hiring managers started reaching out to YOU for dream roles.


→ You were confident in what you had to offer and knew how to impress at interview.  


Introducing The Dream Job Accelerator
Your Blueprint to Job Search Success


This course will teach you my proven 3 step formula to a successful job search so you can land your next career-defining opportunity as quickly as possible and without the overwhelm.
Gain career clarity, learn modern job search strategies and understand how to position yourself as THE first choice candidate.
This course is for ambitious professionals who are ready to take their career to the next level, land offers from their dream employers and secure a highly competitive salary.
The Dream Job Accelerator will teach you how to be in the top 1% of candidates so you're inundated with job offers and get hired fast.

My clients have got hired at the likes of:

Check out these client receipts:

Marie

Nikita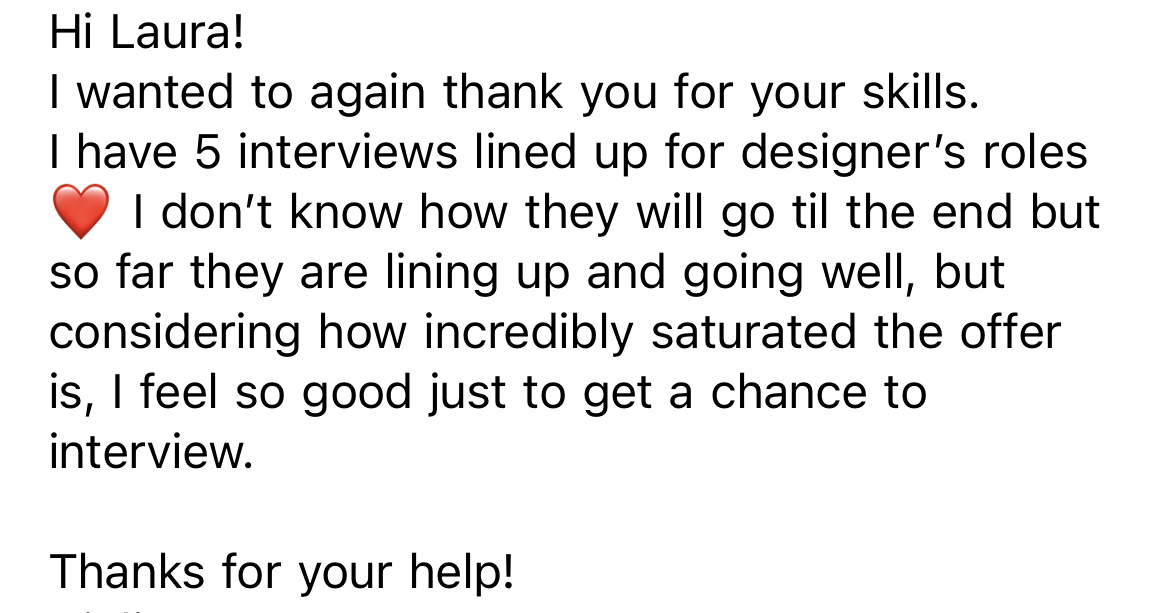 Julia

Michael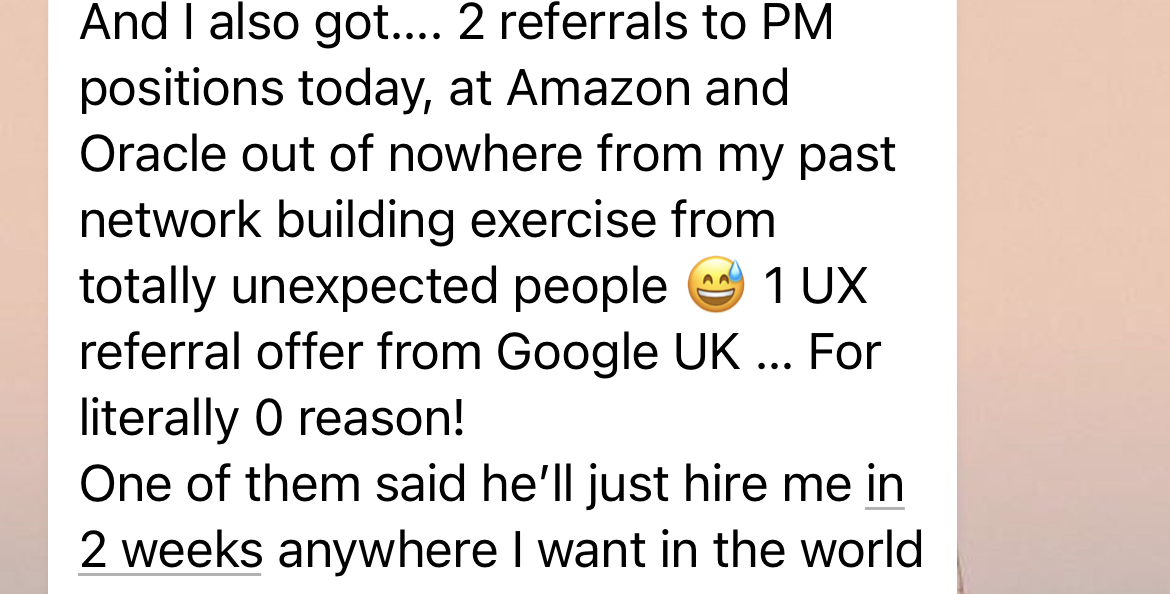 Pragya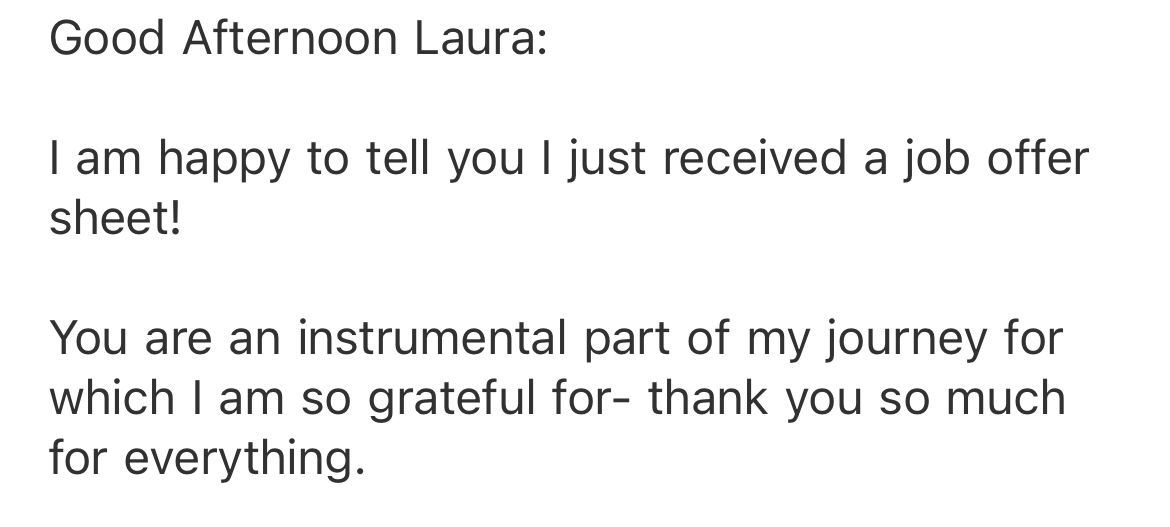 Anne-Sophie
HERE'S EXACTLY WHAT WE COVER:
Module 1: Career Clarity
→ Get unstuck, figure out what you want from your next career move and create a career development plan that excites you
Module 2: Modern Job Search Strategy
→ Learn how to expedite your job search, get noticed by recruiters and hiring managers and land interviews at dream employers
Module 3: Interview & Salary Negotiation Technique
→ Become the first choice candidate, negotiate your salary and land the offer

You'll learn everything you need to upgrade your career, land your dream job and secure the competitive salary you deserve.

WHAT YOU'LL GET:
→ 10 step-by-step video lessons that show you exactly how to job search successfully so you can bag the role of your dreams without the overwhelm and without applying online 24-7 (Value $300)
→ A course workbook with exercises and templates to ensure you're taking action and seeing results PLUS a step-by-step guide to optimizing your LinkedIn profile (Value $200)

→ A personalized review of your Resume & LinkedIn profile so you know exactly what to do to make them the best they've ever been and so you start getting noticed by recruiters and hiring managers (Value $300)


→ Live support via a private Slack Channel where you'll have lifetime access to me as your Career Coach and be able to ask me all of your burning job search questions. You'll also have the opportunity to connect with other job seekers from all over the world (Value $100)
That's a total value of $900


Which you'll get for only $57!

Real Success Stories from Real Students:
" Since the course I saw real improvements in my job search: better quality application responses, interview call-backs and a month later received three job offers! Highly recommend."
Nirvana, UK
"If you feel stuck in your job search, get Laura's Dream Job Accelerator to boost your confidence and blow new life into your search for a career."
Riaan, South Africa
"Before the course, I struggled to find confidence when marketing myself to potential employers. The Dream Job Accelerator helped me understand how to job search effectively - highly recommend."
Shannon, USA
"After this course I started hearing back from jobs which enabled me to land my perfect job. So I want to say a big thank you Laura!"
Katie, UK
"Thanks to this course I've secured interviews and referrals at Google, The Financial Times & Stanford Medical School! I've gone from hating networking to absolutely loving it."
Sara, Dubai

Who's Teaching The Course?
Hi, I'm Laura!
I'm on a mission to help young professionals fast track their career success without sacrificing their happiness.
To date, I've helped 300+ people from all over the world make bold career changes, land their dream jobs and land salary increases collectively of $ 100k+.
My clients have secured highly competitive roles at the likes of Deloitte, Netflix, Google, The Financial Times, Microsoft and Athleta, have launched incredibly successful side hustles bringing in $100,000+ within the first 6 months of business and have won places to study Master's programmes at some of the world's most prestigious universities. 
My collective experiences in HR, Entrepreneurship & Career Development mean I know exactly what employers are looking for, how to get the attention of recruiters and hiring managers and what the top 1% of candidates have in common.
I hope you enjoy this course as much as I enjoyed creating it!
Laura Leuillier
Qualifications: International Human Resources Management, ICF Certified Coach, Erickson International.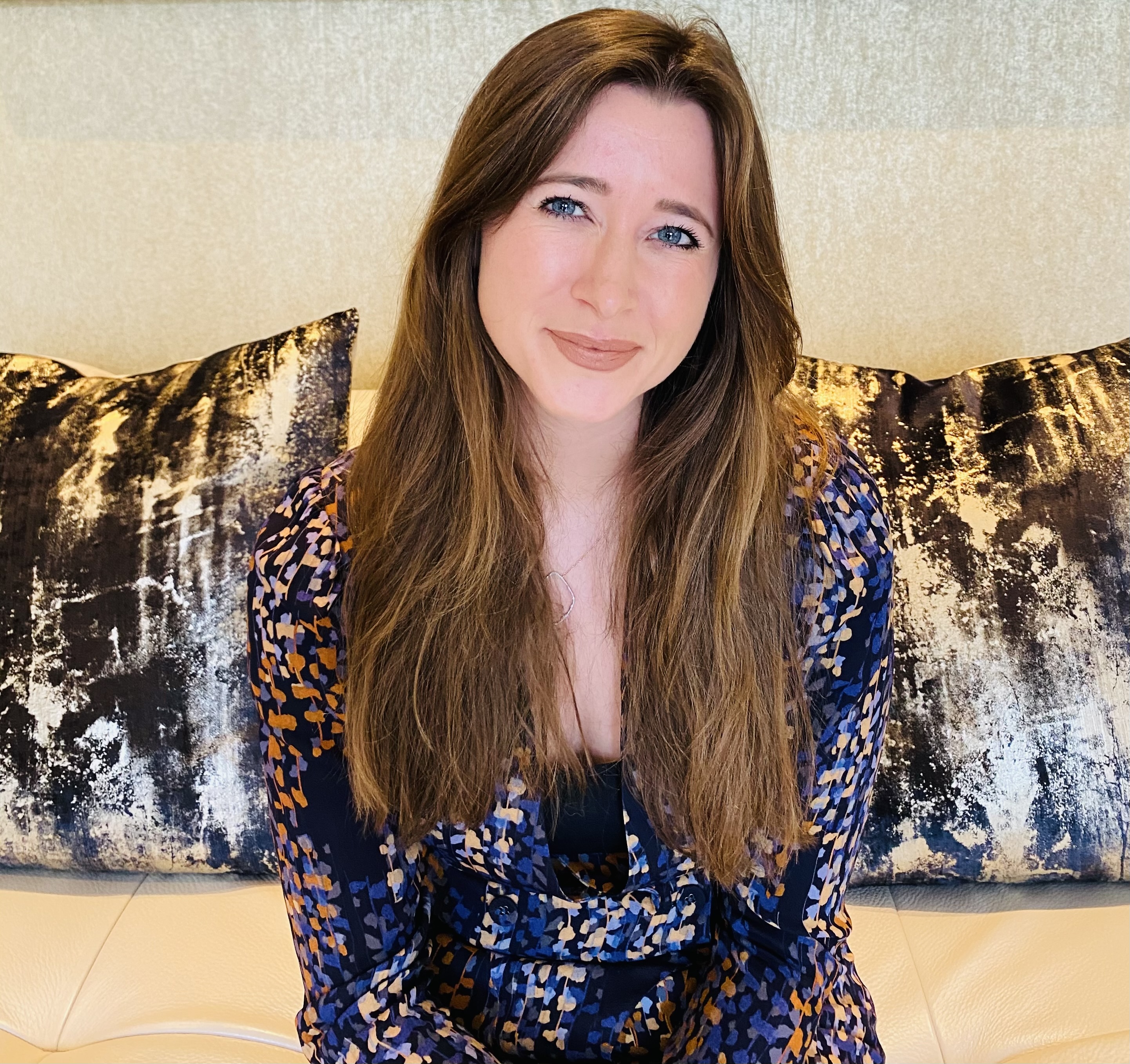 FAQs
When does this course start?
Whenever you want! It's self-paced: you decide when you start and when you finish.
How long will I have access to the course?
Forever!
How much access do I get to Laura?
You'll be able to ask Laura questions directly in the private course Slack channel.
You'll also be able to meet other job seekers there from around the world to support each other and share experiences.
How long is this course?
The course is structured in 3 modules with a total of 10 lessons lasting 43 minutes.
Do you do refunds?
No, because I know if you put in the work and implement what I teach you, you WILL see results.